Send us your patient contact data . . .
We'll do everything else!
Your practice now has a team of experts using a robust platform to gather patient feedback, measure your Net Promoter Score, encourage online reviews, display testimonials on your website and help you interpret & navigate the positive and sometimes even the not so happy patient feedback.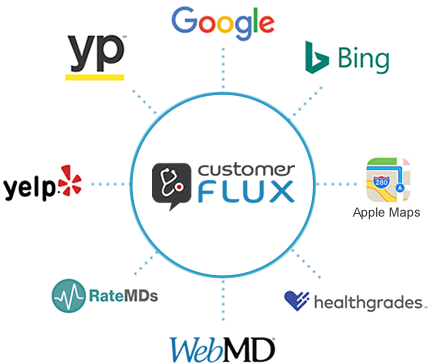 The consistency of your medical practice Name, Address, Phone and Website (NAP+W) helps patients and search engines find you online.
Data Consistency and Optimization
We submit your business data to the major aggregators, top directories and review websites.
• Correct errors
• Optimize profiles with photos, insurance providers, education, specialties, etc.
• Create profiles that don't exist
• Remove duplicates
Get More Patients from Google
Don't let bad data hurt your local online visibility. Data consistency is a top local search engine ranking factor. Google trusts businesses with consistent NAP+W data… resulting in a better opportunity for patients to find you.
Using our spreadsheet template, the healthcare professional (HCP) or a member of their staff sends us basic contact information for patients they
would like to get feedback from –
first name, last name and email address.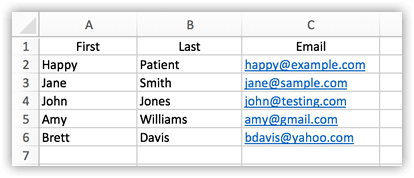 The Customer Flux team and Platform do the rest!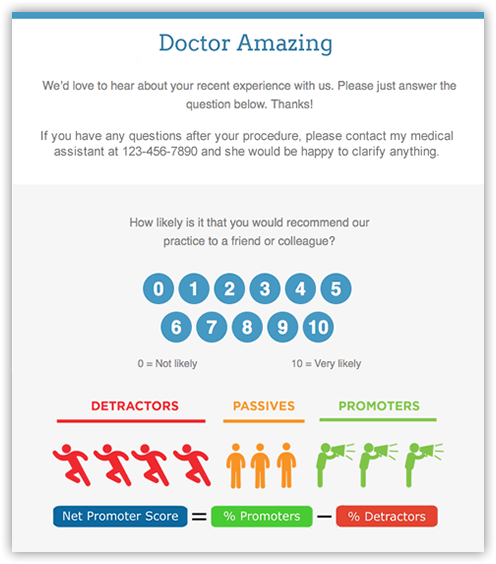 The patient is asked via email or text how likely they are to recommend the practice to a friend or colleague? This rating process helps form your Net Promoter Score (NPS) – a key indicator of the level of satisfaction your patients have with your practice.
More Reviews
Studies show there is a direct correlation between the number of online reviews and the NPS rating. The higher the rating… the more reviews your patients will create when asked.
Promote Positive Feedback
Patients will submit powerful testimonials directly to you through the Customer Flux platform. With our review widget, you will be able to show these on your website and get star ratings from Google.
Patient Funnel
We encourage your happy patients to submit an online review. Unhappy patients are placed in a different funnel that attempts to learn more about their dissatisfaction while sending an alert to the HCP.*
*We follow Google's TOS on reviews and unhappy patients are presented with the o